When it comes to jewelry and semi-jewels, we can say that there are different ways to give a special touch during finishing. From stones, rhodium pens, to the type of finish of the piece.
About the finish, many carry a doubt: the difference between matte, polished and diamond finish.
Have you heard of them? If so, are you also confused about the particularities of each one? Then read this article to the end and learn all about the types of finish.
During the process of making a jewel or a semi-jewel, many steps take place. Whether in casting, finishing, bathing or anti-allergic protection , every detail needs to be very well planned and executed.
When it comes to finishing, especially for jewelry, 3 types stand out. Polished, matte or diamond finishes are the most used and preferred by customers. Let's get to know each one of them:
Polished Finish
The polished finish is a very common type of finish between rings and rings. You must have already looked at a smooth piece, with a lot of shine and your reflection even appears, right? These are characteristics of this finish, very shiny and reflective.
The polished finish is accepted by most customers. The main reason is the lack of knowledge of the types of finish. A polished product has a unique highlight and is ideal for those who like to use products that are noticed.
By seeing your reflection in a product you can be sure that it was finished with this finish. However, polished products carry a drawback.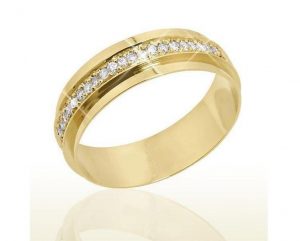 As much as it has a lot of beauty and shine, the pieces with this finish are easier to be scratched. Thus, greater care is inevitable so that your pieces last much longer.
However, it is important to note that very few parts remain scratched after polishing. A tip for those who have this type of ring or alliance is to always take good care and take it to the polishing with a certain constancy, and, if possible, always in the same place.
Matte Finish
The matte finish is more requested and accepted by those who already know jewelry. It is softer to the touch, as are parts with a polished finish. The difference with the latter is that you will not see your reflection in these pieces and the product surface will not be as smooth.
If you don't like the brightness of the polished finish, matte is a great option.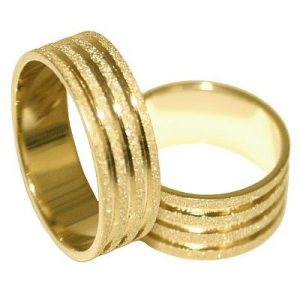 For the manufacture of this matte finish a fine sandpaper or brush is used. With this it is possible to give a satin finish preventing the shine to stand out.
Diamond Finishing
The type of diamond finish is the most different from the other two. It is produced from machines designed for this purpose. The process involves the use of a diamond that is traversed in the piece in longitudinal and transverse movements that gives the piece a unique finish.
It is through touch and vision that you will be able to perceive a product that used this technique. For those who prefer a piece with more details and different textured finishes, this is the ideal finish.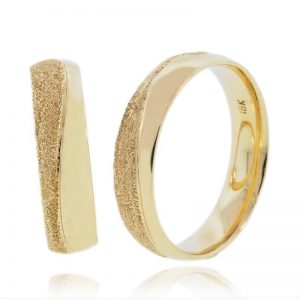 The care of this type of finish is related to residual substances that can get between the pores that are formed during the diamond. Scrubbing the parts with a toothbrush with water and mild soap solves this problem.
In the case of rings, do not worry, as the diamond finish is done only on the outside of the piece. With this, the inner part remains smooth, providing comfort like any other ring.
What type of finish to choose: Matte, Polished or Diamond?
The finishes have differences in form of manufacture and appearance . The important thing to note is that in terms of quality, durability or beauty the finishes depend only on the taste of whoever is going to use it.
All types of finish have their particularities. If you have a more daring style you can even combine the different finishes. To create a combination of style you only need creativity!
Which finish do you prefer and will choose? Be sure to comment and subscribe to our newsletter to receive all our content.